Rhythm.  It feels like we've found some semblance of rhythm.  Autumn is the maestro, and we're expecting a change in time signature at any moment; a little syncopation, maybe something up-tempo.  But for now, we're playing along—one note at a time.
Today Autumn met her great grandparents.  The Clovers (Jody's maternal grandparents) made the trip down from Sebastopol to confirm their line is healthy and intact.  We pulled together a picnic and found a shady spot in Golden Gate Park.  It was a beautiful day, with bluebird skies and plenty of warm, autumn sunlight.  Today is also Autumn's three week birthday, which means we'll be celebrating with cupcakes…again.  Because we're not in the habit of looking for fewer reasons to eat cake.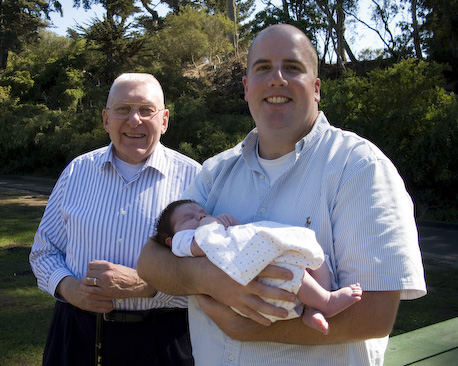 We have a big weekend ahead of us.  Grandpa Bill is coming down from Portland, and Autumn will also meet her great grandma Natalie (Jody's paternal grandma).  She's a lucky girl to have three great grandparents to enjoy.  Let's hope the weather holds.