We took our first trip to Death Valley back in 2005 during a September road trip to southwestern Utah. It was a quick layover during a long drive to the storied canyons of Zion and Bryce Canyon National Parks. The scale of Zion Canyon with its high-country terraces and serpentine slot canyons quenched our thirst for a bit of adventure. And the Seussian red rock of Bryce burned its twisted forms into our memories. But the brief time we spent in Death Valley stuck with us most all. We found ourselves heading back just a few months later during an impromtu winter road trip down the east side of the Sierra. We gave ourselves more time to explore, making the pilgrimage to Racetrack Playa and ringing in the new year on the rim of Ubehebe Crater.
After Autumn was born, we started talking about when we could share the park with her, which was really a conversation about just how soon you could subject a young child to a twelve-hour road trip and camping in the remote desert backcountry. After a steady year of Tahoe trips and good number of nights in the tent, we decided fifteen months was about right. To make things interesting, we dismissed all of the responsible destinations and instead aimed for the Saline Valley, one of the most remote outposts in the largest national park in the Lower 48.
After ten hours of driving, doing a northern end run around the Sierra, we braced ourselves for the final leg of our trip: fifty dusty miles down the infamous washboard of Saline Valley Road. As it happens, the washboard wasn't a problem. The 6,000 foot pass laden with 16 inches of unplowed snow was the problem. We white-knuckled our way over North Pass and drifted down to the valley floor, where we looked back at Autumn and took a moment to reflect on how incredibly responsible we were being.
That night, the temperature dropped to the low thirties, about ten degrees cooler than we had expected. Jody did an admirable job keeping Autumn warm, but low temps and the forecast for a major storm found us breaking camp by mid-morning and resigning ourselves to just a single night in the tent. We spent the next two days enjoying the hell out of the Lone Pine area, taking trips into the Alabama Hills and generally goofing around.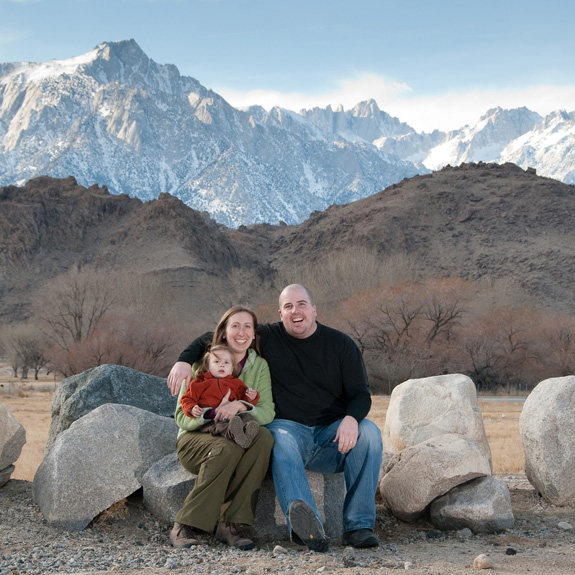 Two years and too many seasons have passed, and we find ourselves a family of four. Carson is fairly sturdy at age one and has ample tent time under his belt. We found an opportunity for another wandering road trip south. Two days after Christmas, we loaded up the Subaru and hit the road in the pre-dawn hours. A very dry start to the winter gave us the unusual opportunity to cross Tioga Pass in late December. We landed in a shoebox-sized motel room along Highway 395. Decompression in tight quarters took a while, but by the following day we found our way into the park and did a short day hike in Mosaic Canyon. Carson loved the view from his perch atop Jody, and Autumn was in her element, bouncing her way up the canyon. A full-speed faceplant had us both worried that our little girl would advance her quest to be toothless by the age of four, but the grill remained intact and we brushed the dust (and blood) away.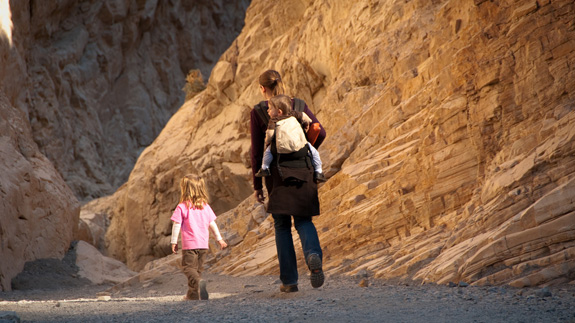 That evening we found ourselves more comfortable accommodations and settled on our plans for the following day. The temperature was relatively low, hovering around the low 40s overnight. Our original plan to camp in the Eureka Valley and visit the Eureka Dunes wasn't going to fly given the elevation and corresponding temperature drop. But the Panamint Valley looked promising. Big and desolate, with a low elevation, the Panamint Valley was the perfect place to find some distance between us and everything else.
The next morning, we loaded up the car again and drove back into the park. We bounced our way north along a washboard dirt road and found a big patch of sand with plenty of room to spread out near the northern end of the Panamint Valley. Dispersed camping is the perfect remedy for the guilty feelings that usually vex families with young children in crowded campgrounds. Our nearest neighbor was two miles away and the kids had the biggest sandbox they could ever dream of. We played a bit and watched the sun set early over the Inyo Range. Camping in late December means very long nights, but we kept Carson and Autumn entertained until bed time arrived. Jody had her hands full sharing a tent with both kids. I stifled feelings of guilt and drifted off to sleep in my own tent just twenty feet away.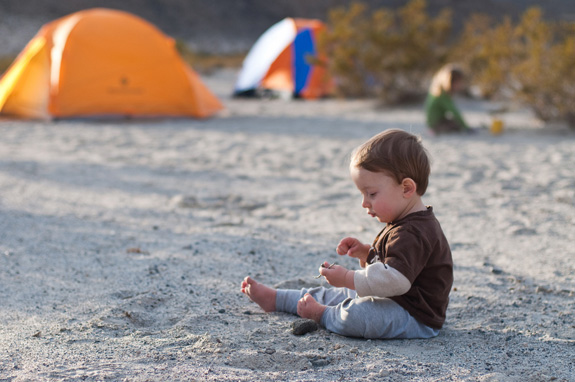 Morning brought happy smiles, but also bitter cold and a painfully slow sunrise. We filled our bellies with a big breakfast and broke camp, a little bummed that we had just one night at this amazing site. Our drive home took us back over Tioga pass and we stopped at Tenaya Lake, to stretch our legs and play on the ice. We drew into SF pretty late and knocked the sand out of our shoes one last time. We've now camped in three of the four major valleys in the park: Death Valley, Saline Valley and Panamint Valley. Getting to Eureka Valley just requires slightly warmer weather—something that isn't hard to come by in this place. The kids had a great time and they're getting used to these long road trips. We hope this is just the start of many more years exploring Death Valley and all the outer lands of this amazing state we call home.
More photos from this recent trip can be found here.