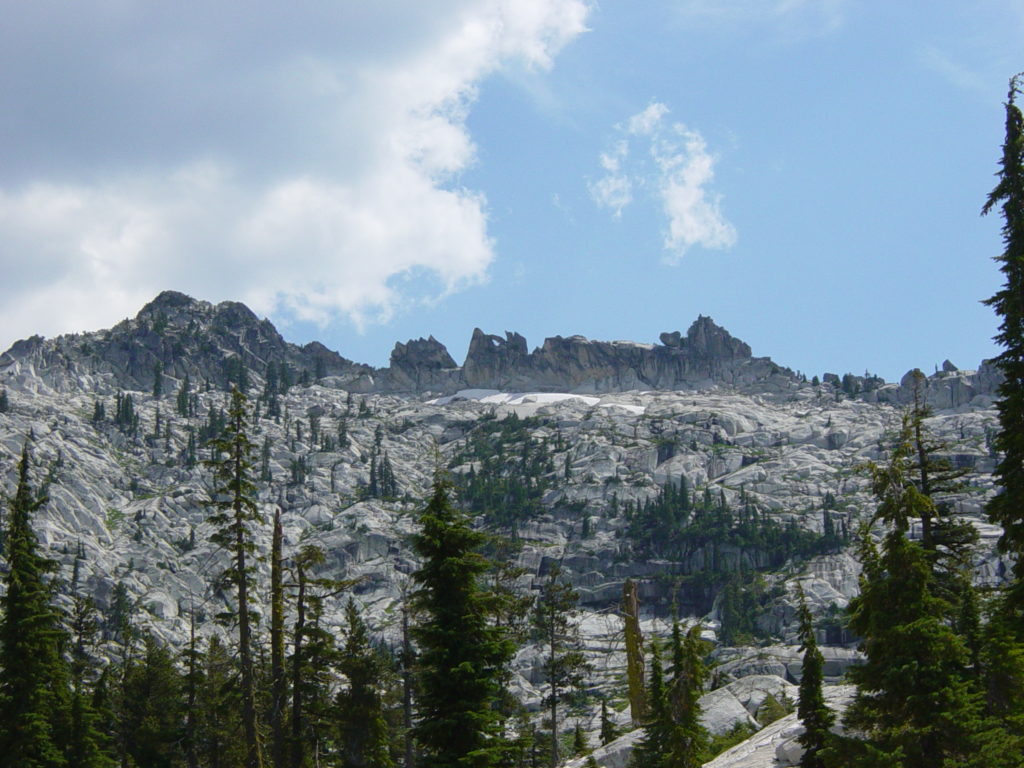 Labor Day weekend. The symbolic end of summer. The last three day weekend to get outside and enjoy the summertime sun. For us, it was an opportunity to explore new terrain and tune up in preparation for our Patagonia trip. The Trinity Alps was our destination and we were excited to see something new. Located in between Interstate 5 and Highway 101, northwest of Redding, the Trinity Alps Wilderness is a rugged, beautiful, and less crowded alternative to the Sierra. Our plan was a 3 day, 2 night romp through the Caribou Basin area.
Looking to avoid holiday traffic and trailhead crowds, we opted for an alpine start to our weekend, leaving San Francisco at 2 AM on Saturday morning. With minimal traffic, we reached Redding in a little over 3 hours. After filling up on $2/gal ARCO gas (love it), we headed west on 299 and made it through Weaverville just as the sun was rising. Another 40 miles north on Highway 4, put us at the Coffee Creek ranger station where we picked up a Wilderness Permit. The trailhead is only about 20 miles from the ranger station on Coffee Creek road, but 15 of those 20 miles are unpaved and a bit rowdy in a little Subaru.
There were a lot of cars at the trailhead and we encountered several groups along the trail to Caribou Lake. The route to Caribou Lake has two versions – the shorter, steeper Old Caribou Trail, or the longer, flatter New Caribou Trail. After driving all night we opted for the New Caribou Trail, which still had plenty of climbing to keep it interesting. The trail was long and a bit rugged in spots, but after 5 hours of hiking we saw the dark, blue waters of Caribou Lake below us. Of the three lakes in the area (Caribou, Lower Caribou, and Snowslide), Snowslide Lake is the first one you reach. Tired and thirsty, we dropped our packs at the first site we came to and decided it would be just fine for the evening. After pumping some water and setting up camp, we actually realized that we had scored a great site. It was large, shady, near the water (but not too close), and had a great big granite slab that we could use to cook and spread out our gear.
The rest of the day was spent taking naps, taking pictures, and tending to blistered feet. A delicious chicken fajita dinner and excellent lakeside views made the decision to stay put a simple one. Originally, we had entertained the idea of hiking over Caribou Mountain and off-trail to Little Caribou Lake. But we were quite happy right where we were and neither of us fancied the idea of doing a hard hike the next day. Instead we got some rest and spent Sunday exploring the area. We hiked up to Caribou Lake and spent the day swimming and relaxing in the sun. The area around Caribou Lake proper is beautiful, with small waterfalls and "gardens" and incredible views of Sawtooth Ridge.
Another relaxing night gave way to an early morning departure back to the trailhead. Our goal to put the worst of the climbing behind us before the sun beat down paid off, and we made good time back to the car. We reached the car a little bit before noon and headed back towards Redding. About two or three miles down the dirt road from the trailhead, the left rear tire on the Subaru decided to go flat. We still had about 10-12 miles of dirt road and 80+ miles to Redding. After swapping out the tire for a donut-sized spare, we gingerly eased down the road and made it to Redding at 4:30. It was 107 degrees. Finding a place to buy tires in Redding at 4:30 on Labor Day can be quite a challenge. Les Scwabb was closed. Costco was closed. The good people at Kragen's offered us a bit of advice – Wal*Mart. Now, I basically hate Wal*Mart and everything that they stand for, but I was pretty damn excited to see the greasy faces at the Express Lube and Tire center that day. The abhorrent business and labor practices of Wal*Mart came through in a pinch. While the tires were being installed, we found a Red Robin and asked the hostess to seat us as far from everyone else as possible, lest we offend them with our surly odor. After 2 hours (about an hour longer than you ever want to spend in Redding on an August afternoon), we had full stomachs and a pair of the finest Goodyears that Sam Walton had in stock. A friend later told me, "Anytime you get to hike 20 miles, sleep outside, and deal with Redding locals all in one weekend, I think adventure goes without saying." I would have to agree.
This post is part of the SierraSoul Archive. The trip took place in August, 2003 (or thereabouts).