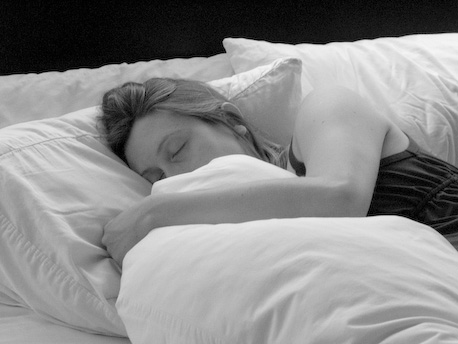 It all began with a 3am bowl of Honey Nut Cheerios on Wednesday morning, 9/24. By the time I crawled back into bed, I was having regular, manageable surges: one minute long and five minutes apart. Those familiar with the 5-1-1 rule of labor know that this is about the time you're supposed to call the hospital. So we were jumping right in and I was looking forward to what I hoped would be a relatively short labor. About an hour passed and I woke up Matt. We called our doula Esther and we were on our way to meeting our little girl.
In a few short hours I was no longer able to lay down through the surges and spent the rest of the day rotating between our exercise ball, the kitchen counter, the doorway, and various chair backs in the house. I needed to stand up to manage the surges and while the spacing between them closed to four minutes, the intensity grew. I worked through them using our Hypnobirthing techniques and my yoga breathing, but I was getting tired. I wanted a break and nap badly. By 5pm things were getting serious and we were planning our trip to Kaiser.
When we arrived, it took about 40 minutes of uncomfortable monitoring and an exam to find out that I was only 2cm dilated – no where near "active labor". They suggested we go home and wait until the surges were more intense. I was crushed. "More intense," I thought? Another tough trip in the car was spent worrying we would have to do this all again soon and I was running out of energy.
Wednesday night was when things got crazy and I understood the true meaning of labor. I spent more than two hours in the shower hanging from our shampoo ledge during each surge moaning "I am strooooooooooong." I'm sure our neighbors sharing our bathroom light well thought there was a dying animal in the building. Matt sat in the bathroom with me half asleep and Esther napped on the sofa. Every window in our apartment was covered in dripping steam. I then moved to the bedroom and spent the next five hours in a delicate rotation. I could rest four minutes in bed and scramble up before then next surge and spend one minute standing at a chair back bending my knees with each exhale, rising with each inhale. Five hours of this awake in the dark while Matt stayed with me half asleep in bed. No real sleep now for more than 24 hours. Another bowl of Honey Nut Cheerios alone in the kitchen.
Thursday morning I was ready for the Pitocin and epidural. The idea of a natural childbirth had lost its luster. I was beat. I cried. I emailed my mom and asked her to pray for me.  But just when I thought I had nothing left, my support team reminded me how far we had come. It was ok to feel disappointed and acknowledge labor had not been as short as we hoped. Our little girl was taking exactly as long as she needed to take to make a safe entry into this world. We would take each breath one at a time and not think beyond that moment.
2:15pm. We were finally going to Kaiser again. A woman picking up her child from the school across the street saw us, got out of her car, and yelled, "Good luck! It's going to be amazing!". I savored her words during each bump of the ride. I was so glad to have the well wishes of a stranger and a fellow mom who had been through this.
7cm dilated. I was thrilled. We could do this. I could do this. I would do this without any interventions. She would be born naturally and our Kaiser team would fully support all portions of our birth plan. After another hour in the shower and various laboring positions including hanging my full body weight from Matt and squatting during each surge, I was finally ready to push. Finally!
I crawled on the bed and the room seemed to fill with people. I think a half hour or more passed. I could see her head in the mirror. And then one final tremendous push without the help of a contraction. Matt caught her and she was on my chest. Warm, calm, a full head of hair. The most beautiful person I've seen in my whole life. Our daughter Autumn.